RV Buying: How to Select Your Perfect RV
April 18 @ 12:00 pm

-

1:00 pm

PDT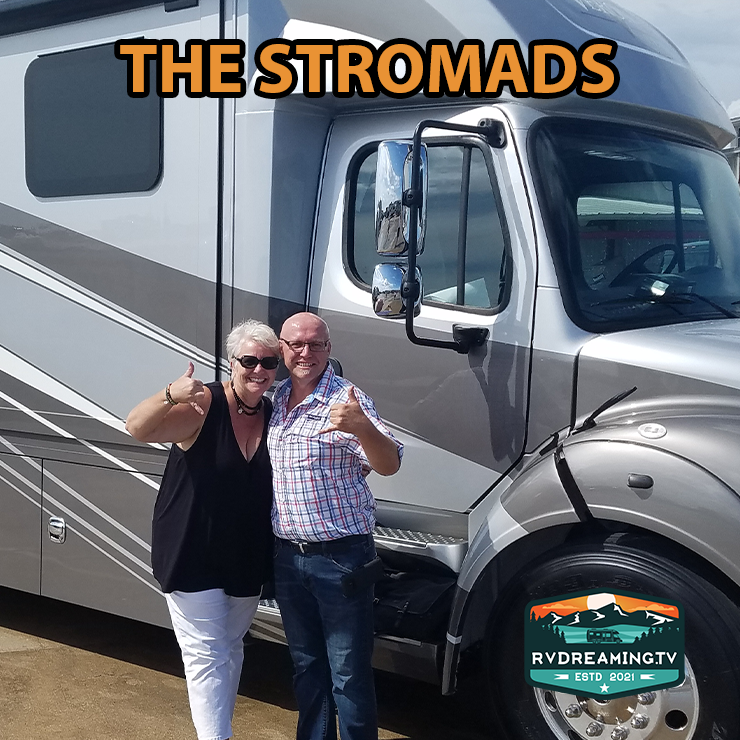 Buy the right RV the first time. Crucial mistakes to avoid when purchasing an RV. Learn the questions you didn't know to ask.
Meet The Stromads, Robb Strobridge, and Maureen Wright! Imagine leaving corporate America behind for the life of a nomadic entrepreneur.
Twenty years ago, Robb and Maureen chose this lifestyle even though it seemed reckless and insane to some. This power couple saw the promise and freedom of creating their own business as the fuel to fill their wanderlust, desire for adventure, and romance. They have logged over a million miles in 49 states and Canada, entertaining thousands with their mobile business, Fast Action Motorsports Entertainment. Although traveling over 200 days a year, they maintained a somewhat conventional life and home in the suburbs.
That changed in 2016 when Robb and Maureen, The Stromads, sold their house, packed their truck, and headed out to live their dream. Hotel living and dining out was fun but exhausting as well as expensive. They knew transitioning to RV Living would sustain their dream of nomadic living and working on the road. In 2017, they purchased their first RV, a 52-foot race car hauler with living quarters.
They lived in only 22 feet of this impressive-looking rig, the rest was for the business, and it was booming. The Stromads lived primarily on fairgrounds while working. The unit being so long made traveling and exploring tricky. The Big Gurl served its purpose for the business, but Robb and Maureen had their eyes set on their dream unit, Renegade Super C! The stars aligned. In 2018,
The Stromads purchased a new Renegade Verona which they love. The rest is history. In addition to being featured in magazines and podcasts, , they share information about entrepreneurship, road life, and how to sustain your perfect RV Life on their website,
The Stromads. On their YouTube Channel, learn about their love of tequila and full-timing. The Stromads are fun-loving and always have a hilarious tale to tell! Be sure to follow them as they travel, exploring Life, Love, and All Things Good. Say hi when you see them out and about.